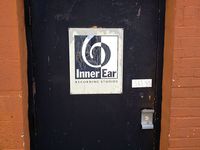 Randy got some free recording time at Inner Ear Studios recently.  The place is great, it has a comfy, hip, attuned to the musical world kind of atmosphere.  He'd recorded there before and evidently Don Zientara, the owner, found Randy easy to work with.  Fantastic! 
Don has been recording cutting edge music at Inner Ear Studios for over 25 years.  He is also helping to keep the world flush with well-trained recording engineers.  It's a win win!  Randy gets free recording time, and Don gets to educate Ben his 18 year old trainee. 
Randy spent most of his time in a well-appointed recording room where Ben diligently surrounded him with a variety of mikes.  A little too close maybe because Randy had to sit almost completely still while he played, and the session lasted almost 6 hours!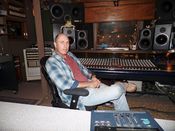 I had the easy job, watching and chatting with Ben and Don in the sound engineering room.  I dug the décor.  The walls were covered with albums that were recorded there, odd theater set pieces and Christmas ornaments, and the many many tracked boards where complete with blue leather trim.  I did learn a few things.  Like when you're recording onto tape, only use the end tracks for sounds with high frequency content.  Put all of your important inputs on the inside tracks.  Good to know! 
Ben recorded some nice raw sounding tracks.  Randy fleshed them out and they sound really good!  Some of it still needs to be re-recorded, but the finished product will be Randy's upcoming album My Pretty Thief.  Stay tuned!