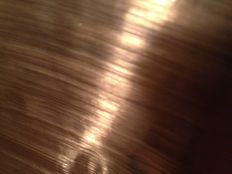 Pauline Oliveros, Stewart Dempster and Panaiotis crawled into a cistern with their instruments to improvise together. The 40 second long reverberations produced by the cistern awakened their perception to the sound surrounding them. Being in the sound moment.

I've been a musician for a while. I am supposed to have been listening deeply. And, I suppose I have. But most of my listening has been from the inside out. What do I hear inside of me, and how do I turn that into a sound expression to share with others?

I've recently had the good fortune to have some large gongs to play. I'm being drawn to them to listen. These instruments are becoming my new teachers.